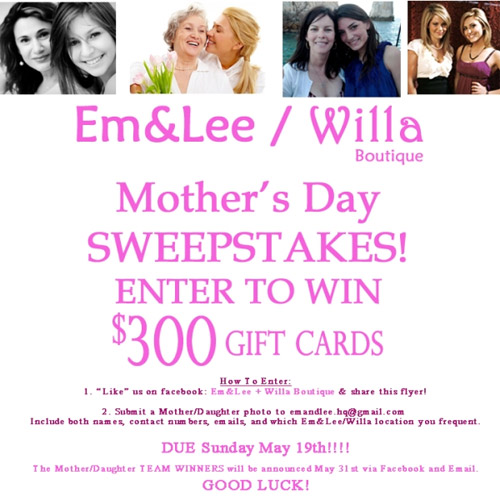 This year we wanted to give YOU the gift for Mother's Day!
Enter our 1st Annual - Mother's Day Sweepstakes to WIN $300 gift cards for YOU and YOUR MOM!
Yes Both of you will be winners - just for entering. (No purchase necessary.)
So don't wait...May 19th is the FINAL DAY to enter your photos/info...

How To Enter:

1. "Like" us on facebook: Em&Lee + Willa Boutique & share this flyer!
 
2. Submit a Mother/Daughter photo to emandlee.hq@gmail.com
Include both names, contact numbers, emails, and which Em&Lee/Willa location you frequent.
 
DUE Sunday May 19th!!!!
 
The Mother/Daughter TEAM WINNERS will be announced May 31st via Facebook and Email.
GOOD LUCK!

 See you soon!